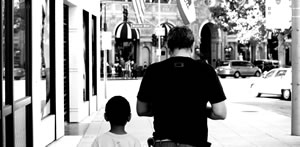 Father's Day is a very special day for dads. And Melbourne venues are rolling out some terrific ideas to treat your dad and make him feel super on the first Sunday in September. September is the start of Spring and there is no better place to be than in Melbourne in Spring time. With sports overload at this time of year Dad will feel right at home visiting some terrific venues, restaurants and events in Melbourne.
And with Father's Day being a Sunday, Melbourne on Sundays has that relaxed, kind of cool feel about it. Whether you are in the City Centre, around Southbank, Docklands or on the City fringe, we hope we have some great ideas for you to do with dear old dad this Father's Day.
Ideas for celebrating Dad in Melbourne this Father's Day
Father's always repeat sayings and important stuff that later on in life you recall. Here's one memory of dear ol' dad - "When leaving a restaurant always check the bill and make sure it is your bill and not the extravagant table next to you."
Father's Day in a Private Igloo

Enjoy Father's Day in an a private ilgoo at The Wharf in Melbourne. Enjoy a bottle of wine or jug of beer whilst you chow down of a platter full of snacks. The whole family is cater for with kids being treated to a soft drink and kids meal.

Adults $55 and Kids $15 Limited Bookings Available.

Website

|

Email

Father's Day Lunch

Enjoy a sky high dinner with your dad from the top floor of Melbourne's Eureka Tower. Treat Dad to a 3 course set menu high above the streets. Fantastic View overlooking Melbourne and the Yarra River

Bookings Essentials see website for details.

Website

|

Email

Father's Day Special

Treat Dad to a Brew or Two this Father's Day at Hopscotch. Satisfy his hunger with Mega Steak Sanga and bottomless fries availbe in 2 sizes to cater for different sized groups. And to wash it all down why not try one of the Mini Kegs?

Sanga + Fries 2 foot $50, 4 foot $90, Kegs from $40

Website

|

Email

LIVE Music

Does dad enjoy a pint and some old world music? Then this Father's Day in Melbourne head on down to Southbank with dad and enjoy yourselves at PJ O'Briens. Combining great food and great company with a pint will be a winner this Father's Day.

Dad's recieve a free pot of Guiness with main meal purchase.

Website

|

Email

Father's Day Dining

Bearbrass has fabulous menus arranged around the best seasonal produce available. Make sure you checkout this awesome venue well located at Southbank with a panorama to the Melbourne cityscape.

Dad'll enjoy a free Furphy with a main course or pizza.

Website

|

Email

The Hophaus Tasting Paddle

All dads love a beer. And with so many to choose from at Hophaus it's always good to get a paddle taster and if you book for lunch or dinner Dad'll recieve one free. This Father's Day dad will love this.

And with Hophaus situated at Southbank overlooking the Yarra River he'll also love you! Happy Father's Day!

Website

|

Email
The ideas of things to do to celebrate with the family and Dad keep coming and we've created this shorter summary version to help with your thinking on what to do.
Melbourne Father's Day Things to Do
Here we have a summary guide of things to do on Fathers Day in Melbourne. Ideas for lunch and dinner and to generally celebrate dear old dad!
| LOCATION | VENUE | EVENT | FROM | COMMENTS |
| --- | --- | --- | --- | --- |
| Docklands | Platform 28 | Father's Day at Platform 28 | TBC | Great Melbourne venue that loves to celebrate Dad's Day. Has various areas for lounge, dining and functions. Easy access to this Hotel from Southern Cross station. |
| Melbourne | The Wharf Hotel | Father's Day | $65 | Let dad relax and watch the Sports Channels (8 Big Screens) at Wharf Hotel. Great location on the north side of the Yarra River of Melbourne's Northbank and great bistro meals for the whole family. |
| Docklands | Woolshed | Celebrate Father's Day | TBC | This fabulous venue on Victoria Pier normally has a full a la carte menu available for families to spoil Dad. And a tip is it's best to book a table. |
| Southbank | Hopscotch | Father's Day at Hopscotch | $50 | Normally has a Father's Day Special Dinner for the whole family. Great restaurant location on the Southbank side of the Yarra River |
| Southbank | PJ O'Briens | Father's Day | TBC | Treat your Dad and book today at this awesome Southbank venue. The venue has an Irish theme and a Guinness for Dad can go down well with their fabulous Bistro Meals. |
| Southbank | BearBrass | Father's Day Cheer for Dad | TBC | Normally has a Father's Day deal with dads favourites including food and drinks. Spoil Dad for a great Day out with family. |
| Southbank | Hophaus | Father's Day Lunch or Dinner | TBC | Treat Dad to lunch or Dinner at Hophaus. It's upstairs at Southbank and overlooks the Yarra River. A German themed venue so Dad might like a Stein. Best to book online for this one and be quick. |
| South Wharf | Munich Brauhaus | Father's Day Bavarian Feast | TBC | Spoil Dad with a Bavarian Feast at Munich Brauhaus. Families are catered fro with Kids meals available. Great location on the Yarra River at South Wharf. |
| Melbourne | Sake | Father's Day at Sake | TBC | Enjoy contemporary Japanese cuisine with Dad and the whole family. Normally has full a la carte menu available and even craft beers for Dad. |
| Melbourne | Campari House | Fathers Day Dining | TBC | A fabulous venue with 4 floors including a roof top to find the right offering for Fathers Day. Campari House is an Italian themed restaurant with awesome food and drinks to spoil dear old dad. |
| Collingwood | Le Bon Ton | Treat Dad | TBC | Normally a lunch and dinner restaurant for Fathers Day and able to cater for families. Bookings go fast. |
| Melbourne | Young & Jackson | Fathers Day Dining | TBC | Chloes Bar and Restaurant could be the perfect place to celebrate Fathers Day with the whole family. So close to Flinders St stations and an iconic Melbourne Hotel that Dad will appreciate. |
| South Yarra | Temperance Hotel | Dads Day | TBC | A great venue on Chapel St in South Yarra that Dad will enjoy. Normally has dining and drinks to celebrate all Fathers Days. |
| Melbourne | European Bier Cafe and Aer Rooftop | Fathers Day on the Roof | TBC | This Father's Day in Melbourne take dad 4 floors up and head to the Aer Bar Rooftop at the European Bier Cafe. Try a range of biers and enjoy the ambience of being above the traffic and noise. |
| South Wharf | Melbourne Public | Fathers Day Fun | TBC | This Father's Day along the quiet space of the Yarra River, Melbourne Public will be warm inside with fabulous dining options. The Darcy Family understand that family matters and Dads Day is special! Bring the family and have a memorable lunch or dinner. |
| North Wharf | Byblos | Fathers Day Dining | TBC | Byblos is a Lebanese inspired dining treat overlooking the Yarra River. Open 7 days your dad will enjoy his time at Byblos on the first Sunday of September! At Byblos they love families and will welcome your family to dine for a special Father's Day! |
| Richmond | Precinct Hotel | Dads Sports Day | TBC | The first Sunday of September is Father's Day in Melbourne and no better food fare than at the Precinct Hotel in Richmond. Bring dad down for a memorable steak and sides or other great options! Lots of screens to watch sport too! |
| Southbank | Ludlow | Fathers Day Roast | TBC | In September the first Sunday is Father's Day. Dad always loves a Roast and on Sundays Ludlow celebrates the Roast. What better way than to celebrate Dads day with a family Sunday Lunch. Great price! Call to book! |
| Melbourne | Turf Bar | Dads Day Sports | TBC | Open from 1pm on Sundays Dad will love the Turf Sports Bar as an option for a family meal this Father's Day. Delicious options from the Turf Kitchen. And Dad can keep up with all the latest September sports updates. |
| Melbourne | Riverland | Fathers Day by the Yarra | TBC | Dads always get thirsty and Melbourne dads deserve to have their thirst treated! At Riverland it's an Urban Beer Garden on the banks of the Yarra River. Come and share some Fathers day memories at Riverland this Father's Day! They have got good tucker too! |
| Melbourne | Pilgrim | Dads Day Melbourne | TBC | Spoil Dad this Father's Day overlooking the Yarra River in Melbourne on Federation Wharf. Gorgeous food from midday onwards and select wines and ales will delight! Spring time in Melbourne can be lovely out and about and you'll enjoy the waters edge atmosphere that the Yarra brings |
| Southbank | Eureka 89 | Fathers Day in the Sky | TBC | Awesome venue overlooking Melbourne's splendid September Spring. Dining on the Top floor of the Eureka Tower is bliss and Dad will be spoilt. Bookings essential. |
| Richmond | Amora Riverwalk | Fathers Day Treat | TBC | Great dining at this Hotel that also offers awesome accommodation. Book in and really spoil Dad this Fathers Day. |