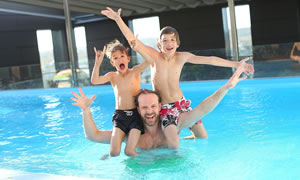 Father's Day is the celebration of dads all over Australia. It's a day to stop and think about fathers and their contribution to assisting in the support, development and guidance of their children.
Dad's do do a lot and it's on this day that we can stop and say thanks.
It might be a simple early morning thanks with a breakfast in bed.
Or it might be that you might like to buy dad a small gift like that new pair of socks he really needs.
Or it might be that you are taking your father out for lunch or dinner or something nice.
Here at fathersday.net.au we have some great ideas of venues to take your dad to.
Father's day is on the first Sunday in September. A great way to start the September Spring.
Fathers Day News

Restaurants and hotel updates on their Fathers Day lunch and dinner menu options around Australia.
Aug 27, 2022 - One week until Father's Day and there are plenty of fabulous ideas to help celebrate Dads Day!.
Aug 19, 2022 - Father's Day Melbourne is sparking up with great food options at Hophaus Bar and Ludlow check out all the Father's Day details in Melbourne.
Aug 18 2022 - Only 3 weeks until Fathers Day. Make sure you start thinking of ideas on how you will celebrate your Dad on the first Sunday in September.
Father's Day Ideas for Things to Do Around Australia
Come celebrate! Here are some Events & Venues to visit on Father's Day with your Dad.